UConn's Department of Kinesiology has developed the online MS in Exercise Prescription and Exercise Prescription Graduate Certificate to specifically speak to the needs of one of the nation's, and world's, fastest growing sectors, Exercise Science. 
Exercise is Medicine!
Earn your Exercise Science master's degree or certificate from one of the nation's best.

The University of Connecticut is ranked in the Top 25 Public Schools by US News & World Report and is accredited by the New England Association of Schools and Colleges.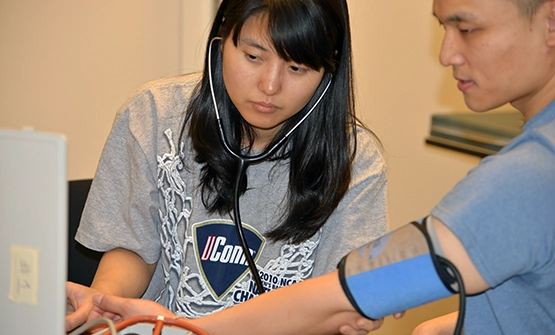 IN THE NATION
The National Academy of Kinesiology (NAK) ranks UConn's PhD in Kinesiology #3 in the nation.
---
I am very happy to inform you that I passed ACSM-CEP.  I highly recommend your program for anyone seeking to obtain ACSM CEP certification; it's a wonderful resource for exercise professionals. Thank you very much.
AL ANUTH (she/her), Spring 2022
Clinical Exercise Physiologist-ACSM
The World is Discovering Exercise is Medicine.

A 9-Credit 100% Online Graduate Certificate in Exercise Prescription

Are you interested in transitioning into the field of Exercise Science, Sports Medicine, Kinesiology, Personal Training, Exercise Physiology, or Health and Fitness? Looking to enhance your current job credentials or earn an advanced degree? Here's your next step.

Great news! You're in the right place at the right time. Exercise physiology and related fields are exploding, especially given America's unwavering interest in sports, along with the continued growth in the numbers of older adults and people who are overweight or obese. The world is discovering exercise is medicine!
To help meet demand for continuing education in the exercise science field, the University of Connecticut (UConn) now offers a new online graduate certificate program in Exercise Prescription. This 9-credit, 3 course online graduate certificate can help you advance your knowledge base in this dynamic field, preparing you to take your career to the next level and capitalize on the growing exercise science, personal training, fitness and Kinesiology industries.
At the completion of this online certificate program, students will:
Explain the nuances of administering exercise stress tests in healthy and unhealthy populations.
Evaluate a person's overall health prior to beginning of an exercise program and throughout program maintenance.
Incorporate aerobic, resistance, concurrent, neuro-motor, and flexibility exercise appropriately into exercise plans.
Explain the underlying processes involved with chronic diseases or special health conditions.
Use the F.I.T.T. (Frequency, Intensity, Time, Type) principle of exercise prescription to prevent, treat, and manage chronic disease or special health conditions.
Develop individualized exercise prescriptions to increase and promote physical activity, fitness, strength, endurance, and flexibility to optimize health and meet athletic performance goals.
Recognize common medication classes likely to be encountered by health/fitness professionals, and how they may influence the exercise responses.
Perform a scientific systematic review on exercise testing and prescription considerations for a population with chronic diseases and health conditions, following the seven best practice steps.
Deliver an educational presentation on a special topic in exercise prescription following instructional design principles and effective presentation best practices.
Reflect on the challenges of maintaining a regular exercise program.
We are currently accepting applications for the fall 2023 semester. The deadline to apply is June 16, 11:59 p.m. EST. Apply now to avoid last minute processing delays!
Days Until Application Deadline
IN THE NEWS
Meet the Researcher: Linda Pescatello, CAHNR
Pescatello's career as a kinesiology researcher grew out of an enduring desire to learn coupled with her lifelong passion for physical activity and biology
READ MORE
Physical Activity Guidelines
The PAG continues to grow with new initiatives and resources. Health.Gov provides the most recent news and...
READ MORE